Craft Certification Booths
Updated On: Nov 312, 2011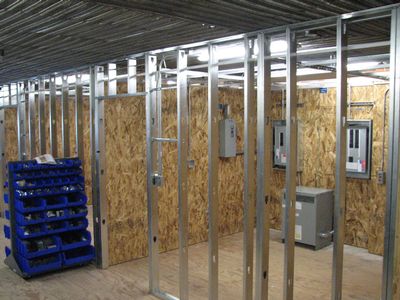 Craft Certification Booths
This year, the JATC committee, with the help of the Electrical Contractors Trust and Rosendin Electric, have constructed two new Craft Certification booths on the upper level of the warehouse. The purpose of these booths is to provide "hands on" training to all apprentices and journeymen seeking to increase their skills and knowledge with regard to electrical installation methods. Craft Certification allows the apprentice to test through six levels of knowledge and skills as they progress through their apprenticeship.
Another valuable use for these booths is to enable the Local #180 Exam Board to test potential organized electricians to assess their respective skill levels prior to entry into the Local membership. The Ninth District of the IBEW has created a series of "hands on" tests that accompany the written test they administer to allow the Exam Board to fully understand the strengths and potential weaknesses of the organized electrician so that they may place the electrician in the proper catagory such as; Inside Wireman, CW, CE, or placement into the apprenticeship program.
If you are interested in seeing the booths, stop by the JATC office and we'll be glad to show them to you.